MEDI-BOOK
Eliminate excess costs and simplify
Contact us today to request a demonstration.
accident reporting.
Effective and dynamic accident management and reporting.
What is MEDI-BOOK ?
MEDI-BOOK is an online management and reporting tool enabling schools, nurseries and after-school clubs to record incidents and illnesses which occur for staff, pupils and visitors.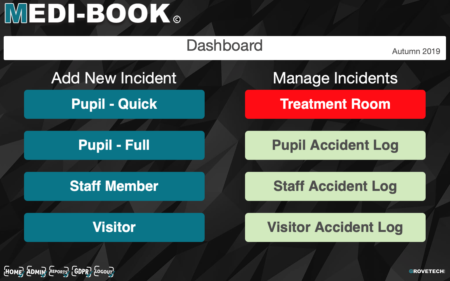 Record
Retain a secure, encrypted online account of all accidents and incidents which occur both on and off site.
Notify
Notify staff, parents and care providers of any accidents which occur using password protected, redacted incident reports sent directly by secure email.
Analyse
Report on accidents which have occurred by location, person type or individual person. Look for trends in accidents to determine health and safety risks or signs of self harming.
Student Management
Access your students key information in one place, retrieve contact details of parents and care givers and medication requirements.
Access Anywhere
MEDI-BOOKS is a fully hosted, online accident management platform, enabling you to record and report on accidents anytime, from any location. Ideal for school trips, no need to carry paper based reports, capture the incident there and then with any required photographs.
Secure
MEDI-BOOK instances are hosted in secure, UK based datacentres, ensuring no data leaves the UK.
All identifiable and reporting data is stored using AES256 encryption along with any reports which are produced are redacted to ensure nothing can identify the person to the incident or location.
Flexible Reporting
Produce quick and effective reports at the click of the button, highlighting accidents involving specific person types, locations or on an individual students / staff member if they're having many accidents enabling you to detect potential issues effecting the person or location.
Unlimited storage space
No need to keep paying out for accident forms every term, with Medi-Book you've a year of unlimited accident reports for more than half the price!, plus your previous data is available for reporting on to provide a full and concise student and staff members accident history whilst at the school.
Ideal for producing reports required by Governors, no need to sift through paper based booked, saving hours and hours of administration time.
RIDDOR and GDPR Compliancy
Store all accident records online, in one place, encrypted and securely. Records can be retained for as long as you need, (under RIDDOR you need to have a record of this incident for at least 3 years after the event), easily accessible so if you need a historic record it is there and available.
Accident Management
Using our simple to use forms you are able to quickly record the key information of any accidents. The system automatically populates the date, time, incident number and who is reporting the accident. Along with this you are able to specify incident specific information such as:-
Alternate time – if the incident occurred earlier that day you can define the time it happened, the main incident it timestamped with when it was created for auditing.
The location where it occurred
Where the person was injured
Related symptoms
How it occurred
Supporting photograph (If required)
View, download and securely email incident reports to the primary emergency contact.
Treatment Room
The included treatment room module enables you to record additional information relating to an incident, you can add additional interactions and treatments given, build up a history of all actions performed to help the student, staff member or visitor. Each treatment room interaction is appended to the main incident report, enabling a full history and audit of what has occurred.
Along with this you are also able to :
View a students emergency contact details, who the person is and their relationship to them.
Add additional treatment room notes
View historical treatment room interactions
View, download and securely email incident reports to the primary emergency contact.
Simplified Reporting
Using the reporting module you are able to produce key reports at the click of a button, containing upto the second information about all your accidents. The provided reports provide:
 Accident information involving pupils, staff or visitors.

Statistical reports where you can see an overview of how many accidents have occurred by group per day and term, additionally you can select each icon to view the full report or download (PDF)

Pupil or Staff historical reporting – Information on all the accidents which have occurred for an individual person, along with links to display the relevant incident reports.

Report by current term or an historical one, the reporting module allows you to report on a previous terms data (Customisable terms / time spans as per the administration module)
MEDI-BOOK Management
Customising your MEDI-BOOK instance, adding users, pupils, staff and reporting options is made easy with our administration module. In here you can:
Bulk import Pupils and Staff from your MIS system using templated csv files (Direct MIS integration will be available in later release)
Manually add and update pupils and staff.
Create new system users, assign relevant permissions such as reporting, administration and treatment room access
Customise accident report text boxes, provide detailed and relevant information which the reader would benefit from.
Add new school terms, update drop down selections lists such as, Location, injured ares, next steps etc.
Manage system upgrades with the click of a button, ensuring your system is always upto date.
Accident Report
Using MEDI-BOOK you are able to produce a detailed accident report, which highlights all the key information as to what has occurred, how, when and any related images.
The report can be viewed on screen, downloaded as a PDF or securely emailed to the primary contacts email address.
When the a report is emailed the following information is redacted to ensure nothing identifiable is provided.
PDF is password protected to ensure no unauthorised access.

PDF is password protected to allow editing.

Persons name – This is removed (***).

Related photographs are replaced with a [No Image] graphic

First Aider – The name of the person administering the first aid is removed.

No additional treatment room information is provided.
Interested in a simple to use digital accident management system, remove all the need for paper based accident reports.