Inscribe VMS
Simple and effective visitor management
Contact us today to request a demonstration.
Simple, quick and powerful visitor management
What is Inscribe VMS
Inscribe VMS is a compact, yet concise visitor management system allowing you to safely and securely keep a record of all your staff, visitors and pupil activity as they arrive and leave the premises.
Inscribe VMS can be provisioned as an on-premise solution, where it is all self contained on a tablet computer (or alternative PC/Touchscreen device) or by using our secure UK based cloud instance, allowing access to reporting from anywhere, anytime.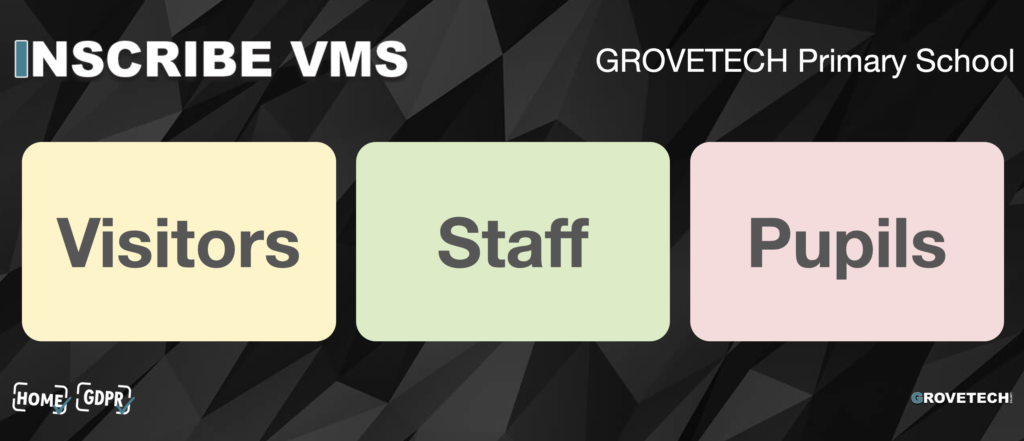 Pupil, Staff & Visitor Management
Pupils – Track students who arrive late or have to leave early, record who they left with and why, as well as times and dates.
Staff – Keep an accurate audit of when staff arrive and leave the premises. Use this information for HR reporting and staff absence.
Visitors – Record and identify various types of people on site – Visitors, Parents, Supply Staff. Either print or use pre-printed badges to identify each visitor, their type and their DBS status.
Pre-Registration – Register visitors in advance on the system to capture the key information, enabling a quick and simple on the day(s) of their arrival.
Access Anywhere
Inscribe VMS  is available as a fully hosted, online visitor management platform, ideal for reporting and management anytime and from anywhere.
SECURE
All identifiable and reporting data is stored using AES256 encryption.
Instances which are hosted in the cloud are provided in a secure, UK based data centres
Evacuation
Using Inscribes quick release tablet design there is no need to waste valuable time printing reports and gathering pieces of paper, simply release the table and take it with you. Every piece of information you require is available on the tablet – no internet access required. Run reports, view data all on the tablet screen. Our Fire report also includes the photos of your visitors so identifying them is made simple.
Visitor Badge Printing
Not every school wants to print badges for visitors to wear so Inscribe gives you the option to print badges quickly and simply with all the required information on them or not. If you choose not to print badges, then the system will record the pre-printed badge number to help track your visitor.
Reporting
Inscribe includes all of the reports that you need to view who is on site and who is offsite. Most visitor management systems only report on who is on site, but isn't it important to know what students have signed out? Inscribe does just that!
So, our Fire report includes staff and visitor onsite and also students that have signed out during the day, but not returned.
Visitor Management
With Inscribe VMS you can provide a professional, welcoming and modern experience for when people arrive at your premises. Key features include :
Mobile – Inscribe VMS can be deployed on a standalone tablet computer, enabling quick removal in the event of an evacuation to obtain up to the second information relating to pupil, staff and visitors, who is on the premises and who isn't.
Visitor ID badge printing – Produce detailed printed visitor ID badges which contain their personal details, who they are visiting, where they are from and of course, a flattering photograph.
Quick Sign-out – Signout is as simple as selecting the badge ID from the onscreen list or by passing your visitor / staff badge under the scanner.
Pupil activity – Register when a pupil is late or leaving early, along with the reason and who was the responsible adult. Where pupils are leaving early they are included on the evacuation reports.
History – Your visitor history is retained for the length of your subscription, providing a detailed record without all the paperwork.
Secure – No information is recorded on paper based books, where unauthorised persons could determine someone else activity. All identifiable data is secured with AES256 encryption at rest.
Policies – Ensure visitors have access to and accept your GDPR and Health and Safety policies on entry to the premises.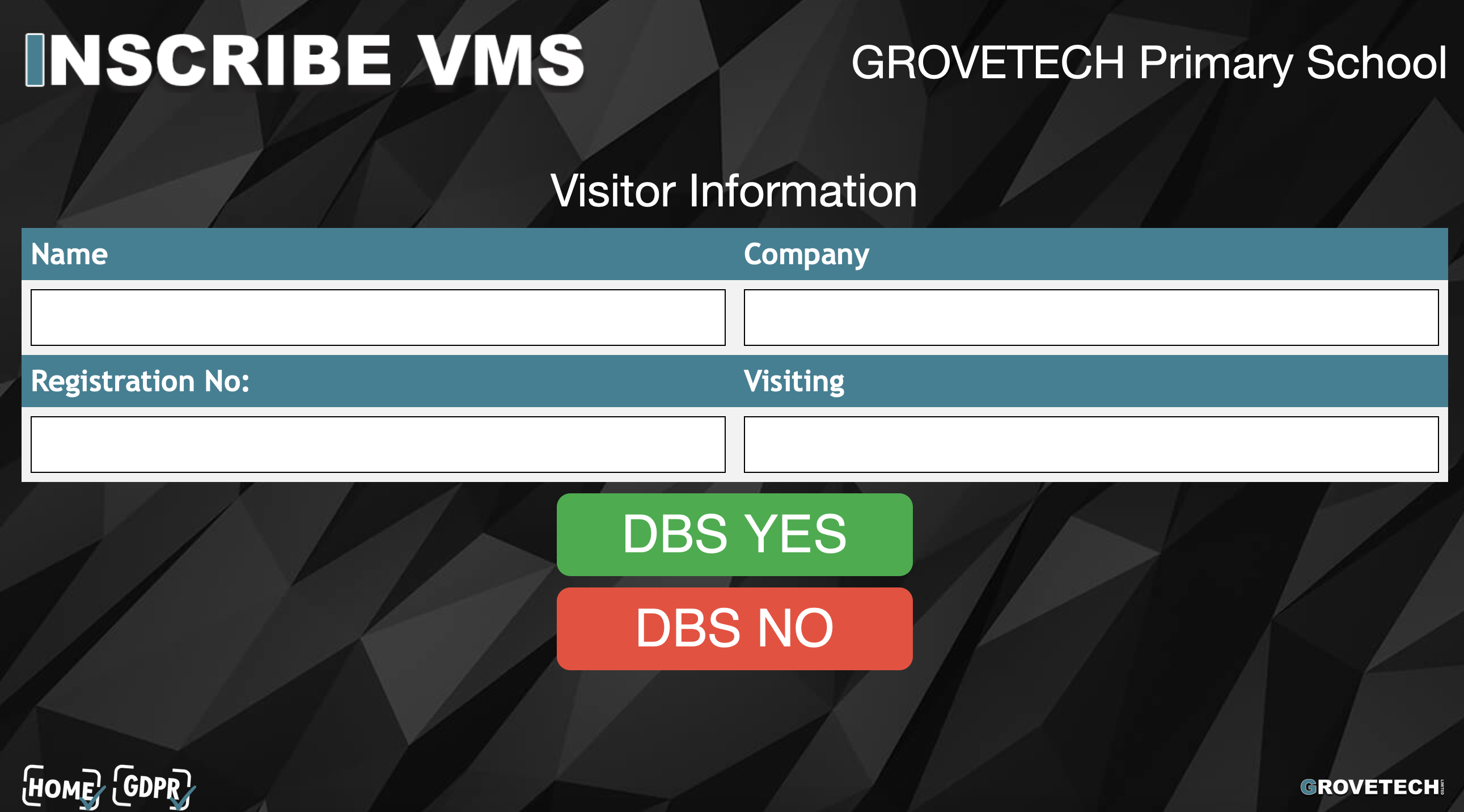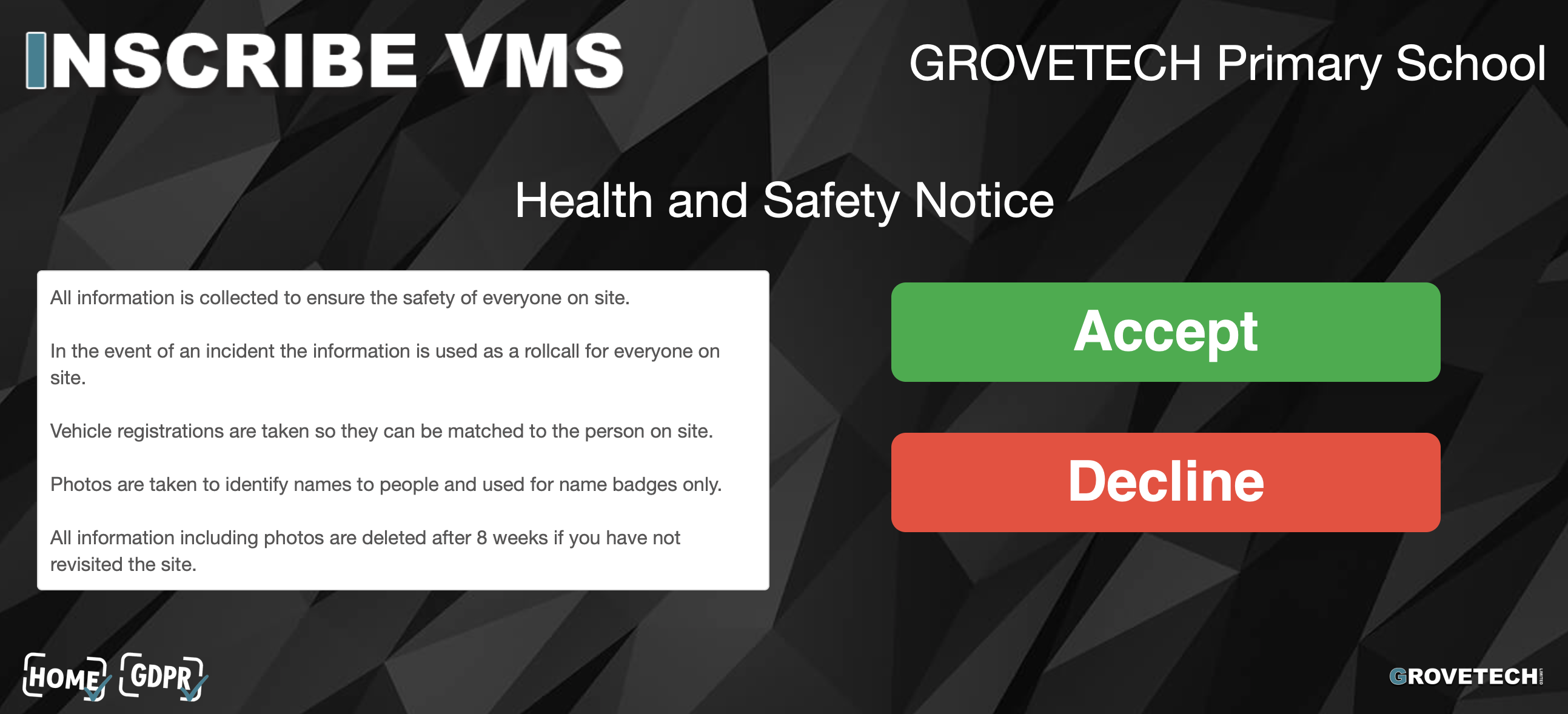 Simplified Reporting
Using the reporting module you are able to produce key reports at the click of a button, containing upto the second information about all your activity in and out of the premises. The provided reports provide:
Daily activity reports – Produce quick and accurate reports on the days activities..
Pre registered visitors – Produce a list of the visitors which are pre registered in the system along with the expiry date for their access.
Pupil absence – Report on when pupils are late arriving or leaving early, along with the reason for absence.
Evacuation Reporting – Detailed reports on pupils who have left school early, staff and visitors who are currently on the premises, a photograph is also included for all visitors enabling a quick identification as part of the evacuation procedure.
Historical – Report by current term or an historical one, the reporting module allows you to report on a previous terms data (Customisable terms / time spans as per the administration module)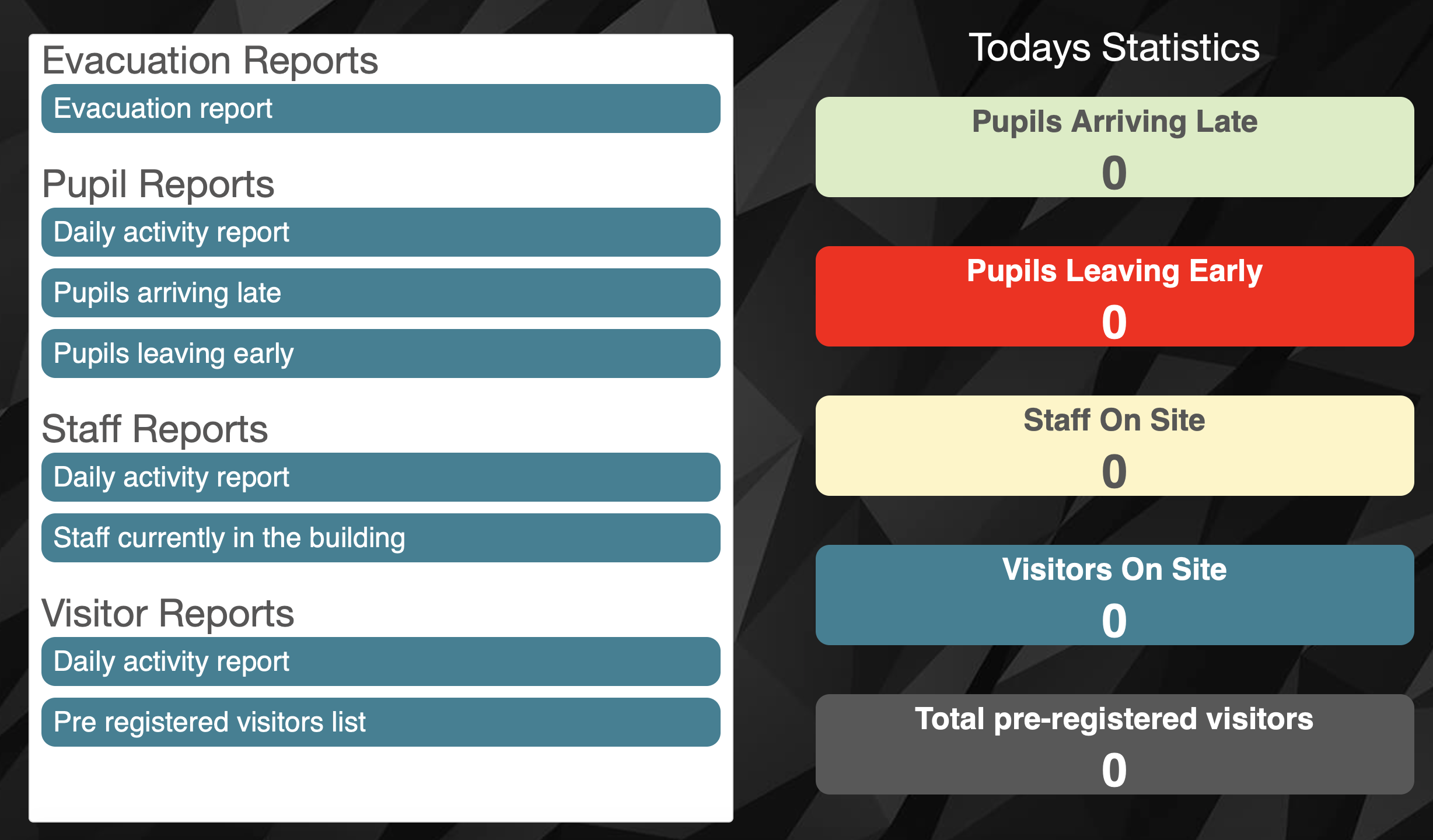 Inscribe VMS Management
Customising your Inscribe VMS instance, adding users, pupils, staff and reporting options is made easy with our administration module. In here you can:
Bulk import Pupils and Staff from your MIS system using templated csv files (Direct MIS integration will be available in later release)
Manually add and update pupils and staff.
Create new system users, assign relevant permissions such as reporting, administration.
Add new school terms.
Pre-register visitors
Manage your printing preferences
Manually sign out pupils, staff or visitors
Manage your policy text.
Manage system upgrades with the click of a button, ensuring your system is always upto date.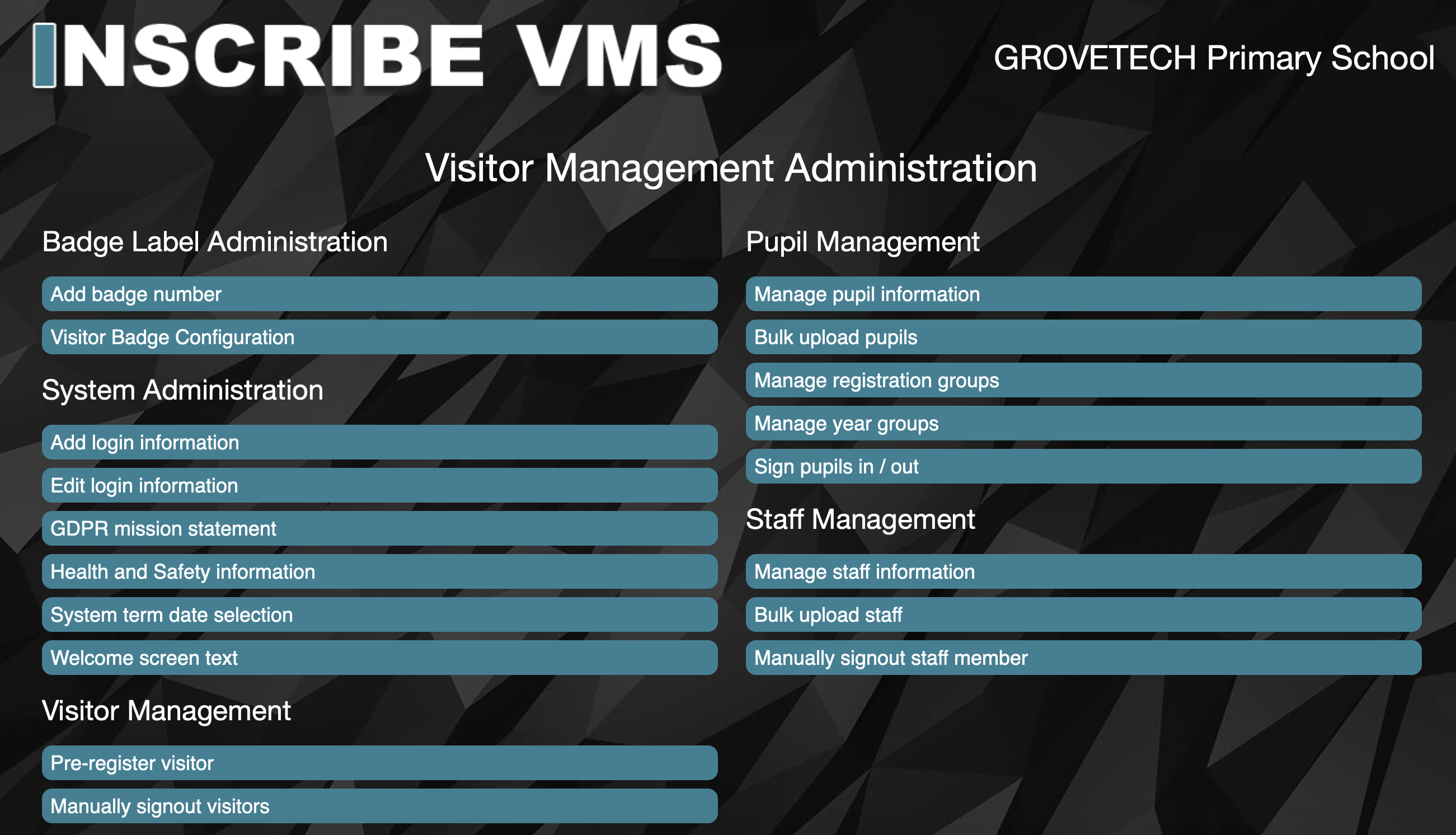 Evacuation
When an evacuation process occurs, whether its a drill or real with Inscribe VMS you can quickly and efficiently report on who should be in the safe areas.
Pupils – Produce a list of the pupils which have left the school early, this can be cross checked against registers ensuring that the pupils who are not in line are the expected ones.
Staff –  Report on which staff members are currently on the premises, ensuring no one is missing.
Visitors –  Produce a list of all the visitors who are on the premises, along with a photograph for easy identification and who they was visiting / meeting with.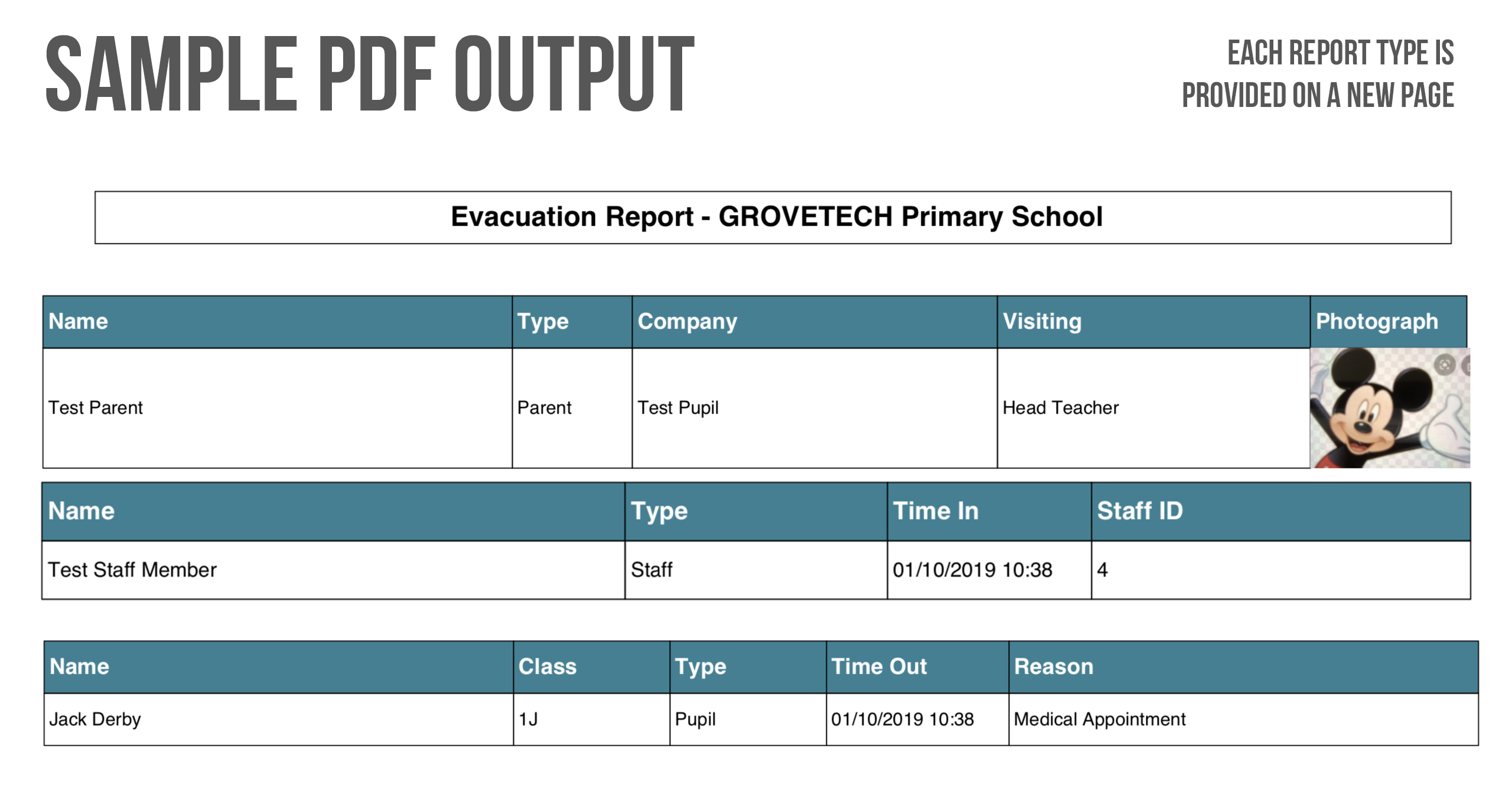 What our customers think.
We have had the new Visitor System, Inscribe from GROVETECH for about 4 months. It is simple to use, simple to extract the information you need for fire registers and to create reports of signing in/out of all users. Having a system that is simple to use, links with SIMS with GDPR compliance, yet cost… Read more "Inscribe VMS – Bellfield Junior School"
Nigel Attwood, Head teacher
Bellfield Junior School
Interested in a simple to use digital signing in system, remove all the need for paper based signing in books